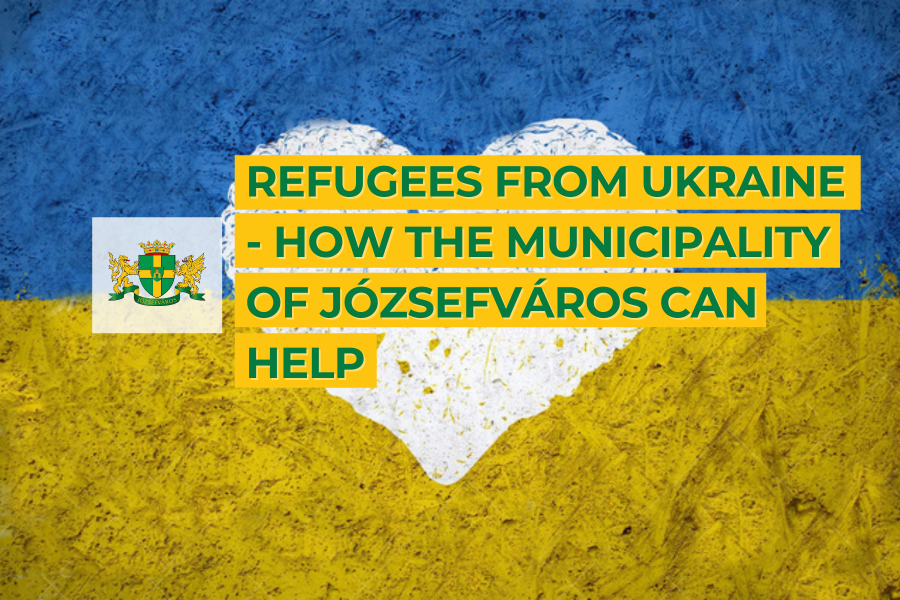 Józsefváros Municipality stands in solidarity with the people fleeing the war in Ukraine and provides them with assistance as far as it can. (This news is constantly updated)
HOW CAN THE MUNICIPALITY OF JÓZSEFVÁROS HELP?
Інформація українською мовою >>>
Інформація російською мовою >>>
Contact details of the Municipality of Józsefváros:
Toll-free number: 06-80-277-256 (weekdays between 8am and 6pm)
Donation center: Koszorú utca 4. (Lélek-Ház), phone: 06-1-612-7819.
Accommodation:
If you are a refugee or assisting refugees and would like information about accommodation in the district, please call our toll-free number on weekdays between 8 am and 6 pm: 06-80-277-256!
If you are a refugee or would like to help refugees from Ukraine with in-kind donations, please call our toll-free number on weekdays between 8 am and 6 pm: +36-80-277-256.
Health care:
The St. Kozma Medical Center in Józsefváros provides medical care for refugees from Ukraine upon presentation of a passport. Contact: 22-28 Aurora utca, Budapest, 1084, Hungary Phone: +36-1-790 4720.
For information on urgent care, please visit: https://old.jozsefvaros.hu/onkormanyzat/egeszsegugy/ugyeletek
You can find the contact details of general practictioners in Józsefváros here: https://old.jozsefvaros.hu/onkormanyzat/egeszsegugy
Ukrainian citizens fleeing Ukraine are entitled to emergency care.
Hungarian citizens fleeing Ukraine and asylum seekers are also entitled to a wide range of care (e.g. primary health care, general practitioners, emergency outpatient and inpatient care, antenatal and maternity care, patient transport, compulsory vaccination, oncology care, etc.)
Non-Ukrainian third-country nationals fleeing Ukraine are entitled to rescue and emergency care only
Hungarian workers of Ukrainian nationality are entitled to full health care and have a social security card.
Childcare:
Our district institutions can help with childcare in specific cases. Contact details and further information:
Józsefváros Unified Day Nurseries: 36-1-314 3696
Józsefváros Association of Kindergartens: 36-1-210 0086
Parking:
A limited number of free parking spaces are available in the district for refugees arriving by car. Please contact the toll-free number number (06-80-277-256) for more information.
Changed operations in municipal institutions:
The current situation requires the reallocation of capacities in the institutions of the Municipality of Józsefváros. Where this involves a change in the location or timing of our program, the institution concerned will inform the public. Please follow our online channels of information!
OTHER ASSISTANCE IN THE DISTRICT
Accommodation:
Please call Shelter Foundation at +36 1 338 4186 (available 0-24) to inquire about accommodation options in Budapest. Further information: https://help.budapest.hu/
Free wifi:
The Auróra community space, which is also one of Migration Aid's collection points, offers free wifi to refugees in need. Contact: 11, Aurora utca, Budapest 1084 https://www.facebook.com/auroraunofficial
WHAT CAN YOU DO TO HELP?
In-kind donations
For more information on in-kind donations, please visit: https://old.jozsefvaros.hu/hir/77348/folytatjuk-az-adomanygyujtest-az-ukrajnai-menekultek-megsegitesere
Apply to volunteer:
If you would like to volunteer in connection with the Municipality's activities to help refugees, please send an e-mail to reszvetel@jozsefvaros.hu with the subject "volunteering Ukraine"!
If you can volunteer to help the Municipality with Ukrainian or Russian interpretation or translation, please contact reszvetel@jozsefvaros.hu with the subject "translation Ukraine"!
Financial donations:
The Municipality of Józsefváros does not accept monetary donations for the care of refugees from Ukraine. However, several organizations are doing so:
Age of Hope (Erste Bank): 11600006-00000000-56705485 and GIBA HUHB HU251160000006-00000000-56705485
Budapest Bike Maffia (Magnet Bank): 16200151-18519259 and IBAN: HU46162001511851925900000000 - Swift BIC: HBWEHUHB
UNICEF has been present in Ukraine since 1997 and has been providing humanitarian assistance since the beginning of the conflict, i.e. for 8 years, and continues to do so now: providing safe drinking water, hygiene kits, first aid kits to the population in need and psychological support to traumatized children. In Ukraine, 7.5 million children are currently at risk. Anyone who wants to help can find information on their support page: https://unicef.hu/veszhelyzet-ukrajnaban
You can call the Hungarian Red Cross on line 1359 or make a transfer to account number 10405004-00026548-00000009 (it is important to mention humanitarian crisis in the message).
The Hungarian Maltese Relief Service has also announced that it is launching a collection to support its humanitarian actions. You can help by making a transfer to account number 11784009-20200776 or by making an online donation at adomanyozz.hu or by calling the donation line 1350.
You can make a donation to the Hungarian Ecumenical Relief Organization at this link, and you can join the fundraising campaign of the Baptist Relief Service by calling donation line 1355 (300 HUF) or by transferring to account number 10918001-55555555-55555555 (with a statement from Ukraine).
From Friday evening, the national helpline is also live: the number 1357 will be available from Saturday, each call costs 500 HUF. In addition, an account number for donations has been opened: 11711711-22222222
FURTHER INFORMATION
Summary page of practical information: https://ukrainehelp.hu/en/
Municipality of Budapest: https://help.budapest.hu/
Collection page of all support groups: https://dropsnation.com
TRANSPORTATION
Budapest Transportation Center (free public transportation)
MÁV (train)
CHARITY ORGANIZATIONS
Baptista Donation and Social Center
Hungarian Maltese Charity Service
Hungarian Reformed Charity Service
LEGAL INFORMATION
GRASSROOTS SUPPORT
Facebook group: Segítségnyújtás (Ukrajna, Kárpátalja)
Segítségnyújtás idős menekülteknek: Seniorcentrum (help for elderly refugees)
HOUSING AND SHELTER
SINOSZ (accommodation and help for people with hearing disabilities)
Housing for refugees from Ucraine/Subcarpathia
Open Houses for Ukrainians in Budapest
Housing Coalition - Solidarity Housing for the long run
HEALTHCARE
DiabErnyő (help for people with diabetes)
LifeFlower - Консультація szülés körüli tanácsadás Ukrajnából menekülteknek (information around pregnancy)
Heim Pál Children's Hospital (free medical help for children)
Mental health (Next Step Association)
COMMUNICATIONS
Yettel (free pre-paid phone cards)
COMMUNITY SPACE